Gal Gadot and Rachel Zegler have some fun on stage during the 2022 D23 Expo on Friday (September 9) in Anaheim, Calif.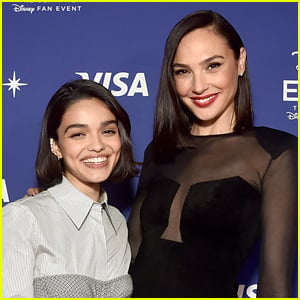 The two actresses stepped on stage to reveal a first look at their upcoming movie, the live action Snow White retelling, to convention attendees.
Fans who didn't attend the event will have to wait a little while more.
According to Variety, the 30-second teaser opened with the Evil Queen's iconic question to her magic mirror, while Snow White dons her signature costume in the footage, which ends with her dropping the poisoned apple.
"There's such an emphasis on what it meant to be the fairest of them all," Rachel sharedaout the first look.
Meanwhile, Gal added what inspired her to take the role of Evil Queen in the first place: "It was very different from anything I've ever done before. I'm used to playing the other end of where the heart should be."
Halle Bailey is also pictured below, sharing the first trailer for her own movie, The Little Mermaid.
See the teaser here!
FYI: Gal wore Roland Mouret. Rachel wore Fendi. Halle wore Sophia Webster shoes with Dena Kemp, Stefere, and House of Emmanuele jewelry.