ARGENTINARunner-up Lionel Messi grabbed center-back Mathias Olivera, in a rush at the host's defeat to Uruguay at the 2026 World Cup qualifier.
In the 19th minute, home midfielder Nicolas Gonzalez fell into the yard after being hit by a Uruguayan player. The Argentinian players responded but referee Wilmar Roldan did not blow the penalty, for the match to continue when Gonzalez was still on the pitch. The visitors also did not kick the ball out into the field, and continued to let midfielder Maximiliano Araujo lead the ball, angered the host player and rushed to make a mistake from behind Araujo. After this situation, the two-team player rushed into the bucket.
Landlord Rodrido de Paul rushed to the Manuel Ugarte, then took center-back Olivera to do the same with De Paul. Messi also ran to the hot spot, grabbed Olivera's neck and pushed the player out. Referee Roldan arrived at that time to intervene, telling Olivera: "Stop it".
The Colombian referee didn't draw any cards after this scuffle situation, and VAR didn't interfere with Messi's actions either. In a similar situation in the English Premier League, midfielder Casemiro had to Get red card directly when Man Utd met Crystal Palace on February 4, 2023.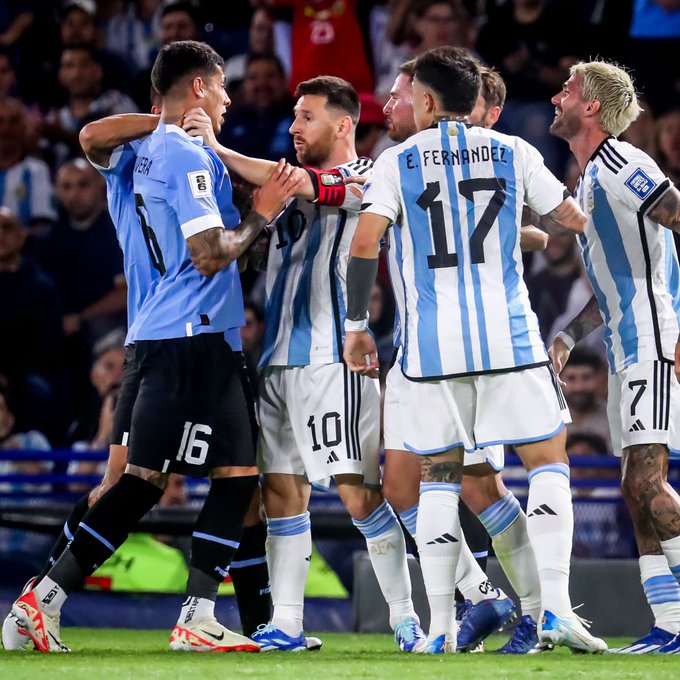 Ugarte also provoked De Paul in a later situation, then spoke and used obscene action to refer to the Argentinian midfielder doing everything Messi asked for. After the first half, coach Marcelo Bielsa pulled Ugarte to the pitch to avoid causing more trouble. Uruguay won the final 2-0 thanks to goals at Ronald Araujo and Darwin Nunez.
After the match, Messi saying such a scuffle is normal in South American football, and Uruguay "always plays like that". The 36-year-old superstar also said that young Uruguayan players should respect the seniors. "The struggles between Uruguay and Argentina are always very tense, but still contain a lot of respect," Messi added. "The young Uruguayan player needs to learn more".
And De Paul refused to mention that situation, because he just wanted to talk about football. "The buckets happen on the field, which will end after the game," he said.
Messi has received three red cards in his career, twice with Argentina and once with Barca. He was disqualified from the first match for the team in August 2005. Arriving in Copa America in June 2019, he accepted Red card directly controversial, when rubbing against center-back Gary Medel in the third tournament. The last time he was sent off was because stroke on Athletic Bilbao player at the Spanish Super Cup final on January 17, 2021.